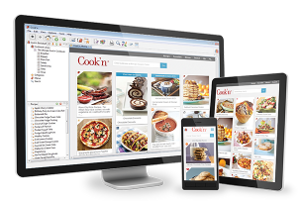 If you want to crush or blend the seeds of spices, use a mortar and pestle, spice grinder or small electric grinder. Some cooks like to toast spices and seeds because toasting intensifies the flavor. Spices that are good for toasting include cumin, coriander, fennel seed, cardamom, cloves, cinnamon sticks and mustard seed. To toast, spread a thin layer of spice or seed in an ungreased skillet, and shake or stir over low heat. Watch so they don't burn! When the aroma really strengthens, take the skillet off the heat and pour out the spice or seed. Let it cool, then store in a container with a tight-fitting lid.
From "Betty Crocker's Complete Cookbook, Everything You Need to Know to Cook Today, 9th Edition." Text Copyright 2000 General Mills, Inc. Used with permission of the publisher, Wiley Publishing, Inc. All Rights Reserved.
Cooking with Spices and Seeds
Centuries ago, spices were the treasures of kings, as much cherished and sought after as gold. Today, you don't have to sail the Seven Seas to find them-they're available at your supermarket. What are spices, exactly? Most consist of the seeds, shells, buds, fruit or flower parts, bark or roots of plants that grow in the tropical regions of the world.
Fennel seeds are a component of the Chinese five spice powder, as well as panch phoron and Malabar garam masala. Fennel is popular for meat dishes, but even more so for fish and sea food; its sweet taste also harmonizes with the earthy aroma of bread and gives pickles or vinegar a special flavor.
Reyhan is the Farsi word for this variety of Basil.
The fragrant young leaves and shoots are used as a seasoning green in stir-fry or soup. Dried leaves and matured seeds are also used as seasonings in Indian cooking.
The ripe berries and cooked leaves of this edible strain of black nightshade are used as food in Tamil Nadu.
Black Nightshade – Manathakkali
We recommend soaking the seed in warm water overnight before sowing 1/2 in deep.
The US Food and Drug Administration (FDA) has noted the potential of a compound ( Uttroside-B) isolated from the plant to treat liver cancer, thanks to the findings of a team of scientists at Rajiv Gandhi Centre for Biotechnology (RGCB). The compound is also found to be effective in treating fatty liver.
We currently offer 2 varieties of Moringa seeds
Persian Basil (Reyhan)
Here are some anecdotal benfits of fenugreek:
Drumstick pods and leaves are used in Indian dishes such as sambar and avial. In most of the U.S., it can be raised as a container plant, and will start producing pods by the eleventh month. In Florida, it can be grown outdoors south of Fort Myers as well as in Arizona and Southern California.. Nutritionally, the leaves are rich in Vitamin C , Vitamin A, calcium, protein and potassium. The bark of the tree has been used to treat abdominal discomfort, boils, cold, rheumatism and scorpion bites, while the leaves have been found effective for the treatment of hypertension and conjunctivitis .
You'll find cumin in both whole seed and ground form in the spice aisle of just about every major grocery store, as well as in spice shops and markets that feature Indian, Middle Eastern, Latin American, and North American ingredients.
Cumin is bursting with warm, earthy spice and is a touch nutty, especially when roasted, which helps heighten this characteristic. It's also uniquely citrusy, with a touch of both sweetness and bitterness.
How to cook with cumin depends on whether you're starting with whole cumin seeds or ground cumin. Ground cumin can simply be treated like any ground spice and sprinkled or stirred into a dish. Whole cumin seeds should be roasted in a dry skillet on the stovetop over medium heat until toasted and fragrant or heated in oil to pull out their flavor before cooking with them.
Store ground cumin in an airtight container in a cool, dark place such as a pantry or spice cabinet and use it within six months. Whole cumin seeds should also be stored in an airtight container in a cool, dark spot but they'll stay fresh for up to four years.
Where to Buy Cumin
Simply Recipes / Lori Rice
Cumin is a key player in any well-stocked spice cabinet and is absolutely worth getting to know. Dive into this curious spice, from its ancient history to its variations and versatility.
You can also grind roasted whole cumin seeds to make powder or grind them with other spices to make spice blends.
What Does Cumin Taste Like?
Varieties: Whole seed form and ground powder
Earthy cumin is a spice that brings instant warmth and depth to a recipe. Whether you're sitting down to a steaming bowl of chili or digging into a fragrant lamb curry, the dish really wouldn't be the same without the popular spice.