Sea of Green (SOG), multiple plants
A great deal of confusion exists regarding the difference between Sea of Green (SOG) vs Screen of Green (ScrOG) methods of growing cannabis. Before I present what I consider to be some of the better "How to ScrOG" Guides, allow me to briefly define the difference between SOG and ScrOG.
ScrOG – The ScrOG method involves lower plant counts, typically 1 plant per 2'x2′ area. Veg periods vary, with longer veg periods resulting in canopies larger than 2'x2′. Screens are used to facilitate plant training which results in short bushy plants with virtually all target bud sites in the best lighting zone. ScrOG method is touted to produce 2 to 3 times the yield of traditional growing methods.
SOG – SOG is used to create "perpetual harvests". The method involves high plant counts per cu ft and short grow cycles. Clones are introduced to 12/12 flowering with little to no veg cycle. Trellis or other screen material may be used to support heavy colas but no plant training techniques are used. Many growers cannot use SOG due to local plant count limitations.
Screen of Green (ScrOG), single plant
There are a number of variations of the ScrOG method. We have scoured the internet and selected what we consider to be some of the better "How to Guides" below.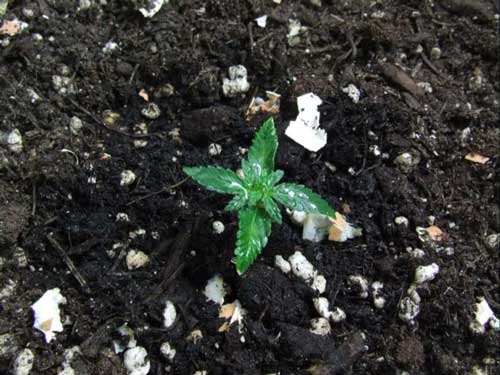 Top any more and you'll get MORE…SMALLER buds.
This is a key point as many attempts at Scrogging turns out to be merely a skeletal support structure for standard plants, not real Scrogs.
Screen materials
She will stay in this 6″ pot for a bit longer.
Overview of ScrOG Process
This diagram shows the structure of a proper Scrog