Avoid clay pots as they can be costly, heavy, and retain heat that could dry out the plant's soil and roots. Fabric pots are the least expensive and most effective solution, as they allow for ample drainage and plenty of oxygen to get to the roots. Plastic containers are also light and inexpensive but tend to retain more heat than fabric pots. Flowering plants need a container that is at least 5 gallons (18.9 liters) to prevent them from outgrowing their containers and becoming rootbound.
Quality soil is crucial to the success of your crop and one of the few factors that you have control over when growing outdoors.
Avoid all-in-one fertilizers as they can be too high in nitrogen for the flowering cycle and damage any beneficial microorganisms that may be present in the soil. Instead, choose a line of nutrients created specifically for cannabis, and use its suggested feeding charts to avoid over- or under-feeding. Organic sources of nutrients are best, as they are a great source of beneficial microbes, but they may take longer to break down and become available to the plant. Both types of nutrients can be found in dry, pre-blended powders or liquid emulsions, but can also be made from scratch with the right ingredients. Organic compost tea, which includes nutrient-rich ingredients, like molasses and earthworm casting compost, is a popular homemade brew for cannabis farmers.
Soil
Even if it is legal to grow cannabis outdoors where you live, you should still take some precautions to hide the plants from public view. And it's often required by law. You can grow your cannabis plants among other plants in your garden to hide them in plain sight. Cannabis can easily grow taller than your average fence, though. Training techniques can help keep your plants shorter. The fewer people who know you are growing cannabis, the better. The ideal situation is to have your grow tucked away on a piece of land where your plants can truly flourish away from prying eyes and nosy neighbors.
After the solstice, the available daylight hours decrease, allowing the plant to naturally transition into the flowering period. Cannabis is a short-day plant, meaning it will begin to flower as the nights get longer and the hours of sunlight decrease.
Greenhouse basics
Plants grown from seeds are typically heartier and more vigorous than clones, as they produce a sturdier taproot that clones are not able to replicate. The vigor that comes from deep roots can be an advantage when dealing with harsh environmental conditions and pest pressures. The disadvantages of growing seeds are the additional attention required to germinate the seeds, the necessity to eliminate any males before they pollinate the females, and the high variability in growth characteristics that results from their genes.
Keep this info in mind as you embark on your cannabis-growing adventure. The smallest adjustments can make all the difference — planting a week earlier, a week later, watering less, watering more, etc.
While shopping for soil, you might be overwhelmed by the options available at your local garden store. The soil type is the basic structure of your soil. From there, look at nutrients, microorganisms, and other amendments that improve the soil. Your choices will be flooded with words like:
Low costs
Having a constant breeze is good for your plants, and especially in hot climates. But if you live in an area with a lot of high winds, consider planting near a windbreak of some sort, like a wall, fence or large shrubbery.
Loam soils
You can plant directly into the ground, using the preexisting soil, but you'll need to understand your soil's composition and amend it accordingly. If you go this route, we recommend getting your soil tested, which will minimize headaches, and it's easy and relatively inexpensive. A soil test will tell you the makeup and pH of your soil, any contaminants present, and will recommend materials and fertilizers to amend your soil.
It's crucial to have a good understanding of the climate in the area you're going to grow. Cannabis is highly adaptable to various conditions, but it is susceptible in extreme weather.
Soil has three basic consistencies, in various ratios:
Benefits of growing weed outdoors
Cannabis plants require a large amount of nutrients over their life cycle, mainly in the form of nitrogen, phosphorus, and potassium. How much you need to add to your plants will depend on the composition of your soil.
Sandy soil is easy to work, drains well, and warms quickly, but it doesn't hold nutrients well, especially in rainy environments. You'll want to dig large holes for your plants and add compost, peat moss, or coco coir, which will help bind the soil together.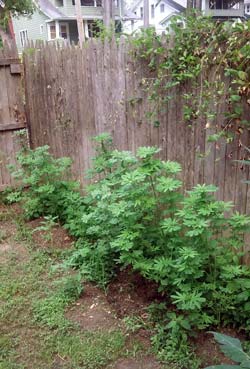 Even having a few plants nearby will make a big difference compared to growing the cannabis plant all by itself.
A gentle breeze provides airflow and cooling, which helps prevent heat stress, mildew, bud rot and bugs compared to the plant living in stagnant air. You're looking for leaves that are rustling. There shouldn't be enough wind that plants are waving around.
In addition to making sure no one can see your plants, it's still a good idea to try to camouflage them so that if someone is on your property for some reason, the plants don't obviously stick out.
Consider that people might be able to smell your plants. Some plants smell a little "weedy" in the vegetative stage, but by the time your plant is flowering and getting close to harvest, the smell can be overwhelming, especially with certain "high-smell" strains.