The main types of cannabis grow lights are HID, or high-intensity discharge, CFL or compact fluorescent lights, and of course, LED or light-emitting diode lights. HID lights were the most commonly used cannabis grow lights when indoor growing first became popular in the 1990s. This was because they produced just the right number of lumens to grow cannabis indoors.
Related: 4 Best Grow Tents for Growing Marijuana
You should also be aware that while LEDs don't put out as much energy, your plants are still susceptible to light burn. So, like any other lights, make sure that you are keeping your lights a proper distance from your plants and keep plants dry when under direct light.
Start Growing with LED Lights
There are many reasons to use LED lights when growing cannabis.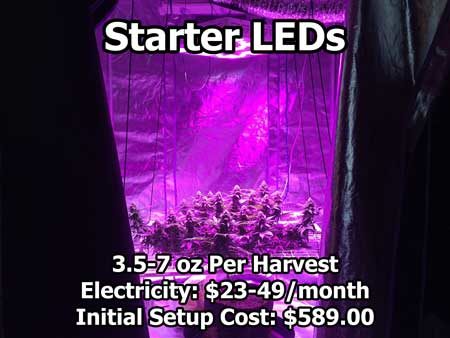 Pros: Newer technology that's actually still being improved, long-lasting panels (no replacing expensive bulbs), not stuck with one spectrum, really freakin' cool
Cost Estimates

pic by Joe "Nunyabiz" Nunya, an avid LED grower who uses ViparSpectra LED
Nutrients
Cons: Expensive, easier to burn plants when not used correctly