Add mango, banana, ice cubes, water, and chia seeds to blender.
Peel mango and banana. Slice mango off the pit and cut banana into chunks.
Blend all of the ingredients on high speed for approx. 2 – 3 min. until smooth.
Step 2/4
Step 3/4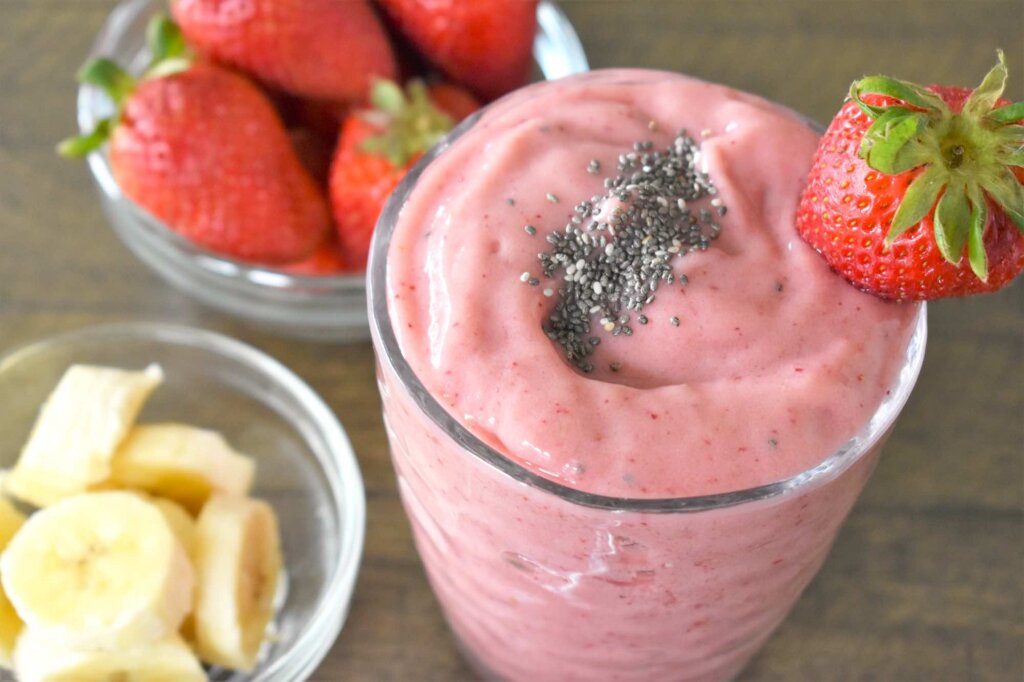 Blend until smooth and serve in the cup of your choice.
It's such an easy way to sneak in some extra fiber and my kids don't even notice it.
Total Time: 12 minutes
In my vain attempt to finish our chia seeds, I've started adding them anywhere I can. We've put them in jams for a little texture and have been making lots of mango chia seed pudding.
Looking for more tropical smoothie recipes? Try my avocado pineapple smoothie, blueberry banana chia smoothie, or mango strawberry smoothie bowl!
That's when I realized we could add them to our banana strawberry mango smoothies that we've been making recently.
We've got one of those big containers of chia seeds and I swear we'll never go through it all!
Chia seeds are an excellent source of fiber and protein, plus they are packed with antioxidants. Adding chia seeds to food can help some people lose weight, too.
Mango Strawberry Mango Smoothie Recipe
Keep scrolling for my super awesome chia strawberry banana mango smoothie recipe that's packed with nutrients!
First, you'll need to combine the frozen strawberry, banana, mango blend with almond milk, chia, and vanilla extract in a blender.