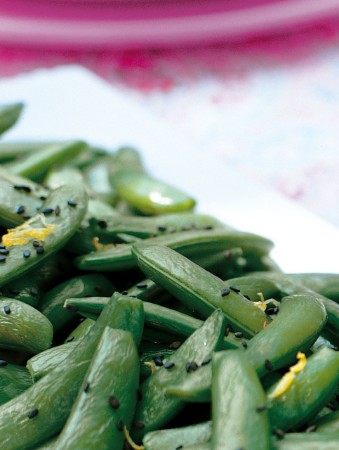 Pinch salt
1 lb (500 g) sugar snap peas
1 lemon
2 tbsp (25 mL) butter
1 garlic clove, minced
1 tsp (5 mL) black sesame seeds, toasted
1. Half fill a large saucepan with water; add a pinch of salt and bring to a boil. Meanwhile, trim peas and remove strings, if any. Drop peas into boiling water; boil one minute. Drain in a colander, then rinse under cold running water until cooled. Turn out onto paper towel to dry.
Fresh sugar snap peas can't be beaten for crunchiness and flavour, especially when they are scattered with dramatic black sesame seeds.
2. When ready to serve, grate 2 tsp (10 mL) lemon zest and squeeze 1 tsp (5 mL) juice. Melt butter in a large frying pan over medium heat. When bubbly, add garlic and peas. Stir frequently for 2 to 3 minutes, or until hot. Stir in zest and juice. Turn into a heated serving bowl; scatter sesame seeds over top. Serve immediately.
Method:-
1. Using an electric beater, cream butter and sugar till pale and creamy.
7. When the cake is out of the oven, using a toothpick or skewer poke a few holes before drizzling citrus syrup on the cake to enable the cake to absorb the flavour.
6. To Make The Citrus Syrup: Place all the ingredients in a heavy duty pan and simmer till sugar dissolved. Turn off the heat and set aside.
2. Beat in egg one at a time till combined. Add in lemon and orange zest together with vanilla extract, beat well.
The added of pistachio nuts to this cake gives it a savory and nutty taste which blends well with the citrus syrup that moist and enhance the flavour of the cake. And for extra crunch and decorative purpose, you could also scatter a some crashed pistachio nuts on top of the batter before baking.