Fertilizers containing pre-emergent herbicides selectively prevent certain kinds of weeds from finishing their germination cycle. There is no point applying this type of weed-and-feed mix after weeds are growing on your lawn. You have to apply it early in the growing season before weeds appear. Make sure the pre-emergent herbicide in the fertilizer kills the kind of weeds that have plagued your lawn in the past. You might apply a starter fertilizer containing a pre-emergent herbicide before you sow your lawn seeds.
You can sow grass seeds now and kill weeds later with a post-emergent herbicide or kill weeds now with a pre-emergent herbicide and plant the seeds later. Weed-and-feed fertilizers are specially formulated combinations of turf fertilizer and herbicides that you apply either before you plant grass seeds or on established lawns.
You apply pre-emergent herbicides before weed seeds germinate, typically in the spring. Pre-emergent herbicides do not prevent weed seeds from germinating; they suppress the development of weed roots as they germinate. They're usually effective for two weeks to three months, depending on the formulation, and you have to water the lawn after applying for the herbicide for it to be effective. There are pre-emergent herbicides to kill both broadleaf weeds and weedy grasses. You can apply them before you sow your grass seed. If you apply a pre-emergent herbicide that kills weedy grasses, you have to delay sowing your lawn seed.
Post emergent herbicides kill weeds after they appear. Some post-emergent, systemic herbicides that you can apply directly on lawns only kill weedy grasses, while others only kill weeds with broadleaf weeds. Contact herbicide such as those including the active ingredient glyphosate kills on contact. To use one of those on a lawn without killing the grass you have to daub it on individual weeds.
Pre-Emergent Weed-and-Feed Fertilizer
Post-emergent weed-and-feed formulations kill selective weeds that are already growing in your lawn. Make sure that the herbicide in the formulation you buy kills the type of weeds that are growing in your lawn. Most weeds make their appearance in the spring, the best time to apply weed-and-feed fertilizer.
Pre-Emergent Herbicides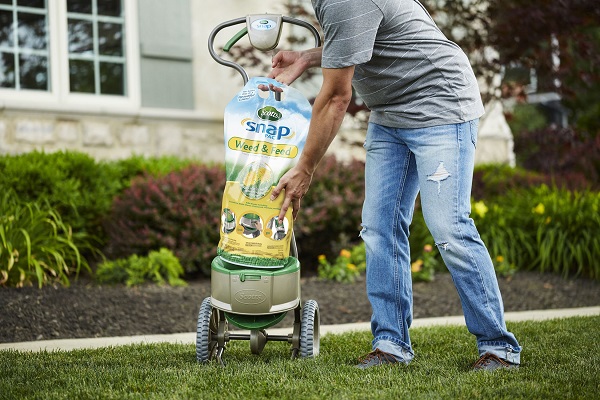 Weed and feed products, as the name implies, contain both a fertilizer and a herbicide to control weeds while feeding the surrounding grass. If the lawn has grass that is already established, this works well. The product should ideally be applied just a couple of weeks after the final frost when grass and weeds grow visibly because it is not effective for sleeping weeds. Apply it periodically throughout the rest of the year as well to keep weeds under control.
What Is Weed And Feed
If you must sow grass seed after applying weed and feed, wait for at least four to six weeks before doing so to ensure the herbicide won't prevent the seeds from sprouting. Prepare seedbeds with the help of a rake which is one of the important garden tools that every gardener should have. It helps the seeds to have proper contact with the ground and prevents any bare patches.
When To Sow Seed
It can take up to four weeks for the herbicide effective to fade, so sowing grass soon after applying weed and feed is likely futile because new grass won't be able to grow.
Weed, Feed or Seed?
Do you have more than 75% good grass however your lawn is thin and weedy without widespread bare spots?
Answer: If lots of larger spots, then seed this spring. Be sure to use a special Starter Lawn Food plus Weed Preventer that is compatible with grass seed (the regular crabgrass preventers will keep grass seed from growing). If you do not prevent weeds when you seed, you are likely to be very disappointed as crabgrass and other weeds will germinate and choke out your good grass before it has a chance to take hold. A machine called a slit-seeder will help make sure the grass seed comes in contact with the soil. You just select the Turf Builder Grass Seed blend that is right for your conditions, such as sun, shade, heat-tolerant, etc. If you only have a few bare spots to take care of, consider Scotts EZ Seed. I think this is the best bare spot repair product we have ever sold! Spread the Starter Lawn Food plus Weed Preventer after you put down the seed. Feed your lawn again in one month after seeding with Turf Builder Lawn Food. Once your new grass has been mowed 4 times, you can kill weeds with Ortho Weed B Gon MAX plus Crabgrass Killer OR Roundup For Lawns.