If you want your plant to grow faster, germinating your seeds in water will probably be the best way forward. However, even though it is faster, there are things that you need to be careful with. You will have to make sure that the environment is of the optimal condition. Usually, to germinate, cannabis seeds need only a total of 24 to 48 hours. However, cultivators can keep their seeds soaked for a week. This method is faster than the soil method as it provides more moisture. Moisture is a key component in growing the seeds. The hard shell cannot withstand the moisture and it will become easier for the root to break through.
Have you recently decided to germinate your own cannabis seeds? It is a very exciting and rewarding process, only if you know the right way to do it. For that, we have come with a complete guide that will help you germinate cannabis seeds in the best way possible.
There are different methods that cultivators use to germinate their cannabis seeds. Some use the old school method and germinate their seeds in the soil, while there are some people who germinate them in water. Lastly, you can also find people who germinate their seeds in paper towels. The way of cultivation depends on the cultivator. Let us take a closer look at each of these methods.
Beatport & Music Metaverse Gaming Platform PIXELYNX Announce Synth Heads Generative NFTs
These are three ways you can germinate your cannabis seeds. The question remains as to which of these ways is the best. That depends solely on the cultivator. They need to decide what method works best for them and is the easiest to carry out. As our experience shows, more and more growers tend to use paper towel method, as it is simple, keeps the seed away from light, and usually results in quick germination. Also remember, that it is best to germinate the seeds and keep the young seedlings indoors as you can control the environment.
Germination is the very first stage of any plant growth. It is when the seed "realizes" that it is in a fertile environment and can start breaking out of its shell. A seedling will break through the shell, resulting in the growth of roots. The fertile environment helps the plant grow and feed off the light, water and nutrients in the environment. In the cannabis world, germination is a very important process. It is very important for the seed to pop out properly. There are different things that cultivators do to ensure that the seed germinates successfully.
What exactly is Germination?
The germination process in this method takes up to 5 days to happen. The seeds will start sprouting in the paper towels and once the roots grow up to 5 millimeters in length, you can plant them. However, you must be very careful when planting them. They can easily break, as the roots are very fragile. It is possible for the roots to be tangled in the paper towels and break off. This is why it is best if you are extra gentle when handling them – the best way is to use a pair of sterile tweezers.
Soil is the most natural method to germinate your cannabis seeds. The soil is the perfect environment for the germination of cannabis seeds as the soils protects the weak roots from being damaged. However, there are things that you must take care of. For instance, it is very important to use the right type of soil.
Check out Johanna's full video series on how to grow weed on Leafly's YouTube .
Cannabis seeds require three things to germinate: water, heat, and air. There are many methods to germinate seeds, but for the most common and simplest method, you will need:
Many marijuana growers start autoflowers early in the season, and at a different time than a regular crop, so keep the season and climate in mind when growing and harvesting—your plants still need warmth to grow, and rain can give them bud rot. Consider growing in a greenhouse to protect them.
Step 4
Germinating cannabis seeds doesn't always go as planned. Some seeds will be duds. Others will be slow and take longer to sprout. But some will pop quickly and grow rapidly.
These are referred to as "bagseeds" and whether or not you can grow one will depend on where it came from.
To get the buds found in medical and recreational stores, female cannabis plants are grown in an environment without males—or the males are removed from the area before they release pollen—so the females don't create seeds. Females can then focus their energies on producing buds and not seeds—this high-potency marijuana is traditionally known as "sinsemilla," meaning "seedless."
What are high-CBD cannabis seeds?
But if the seed you found looks decent, you might as well germinate it and see what sprouts.
Because training happens during vegetative growth, for autoflowering plants, this period could be as short as a few weeks, which means time is limited. Try topping your autoflowers after they have three nodes, and stop once they begin to flower. You will want to prune them lightly.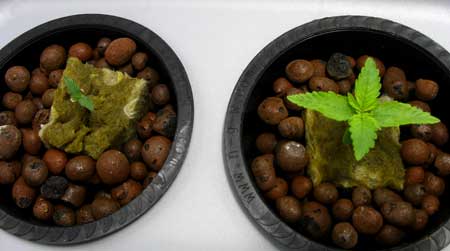 Finally, most cannabis plants stop at 7-finger leaves
How do I know if my seeds are good?
I do not believe the health of the plant is directly tied to the apparent "health" of the seed. If the seed germinates, it's a good seed!
You're trying to give young plants a very small dose of nutrients at first. However, even with young marijuana seedlings, the pH of your water and growing medium is important. Some growers get lucky and happen to have water with the right pH, but if you're noticing deficiencies and problems with your seedlings, definitely take the time to understand about marijuana root pH and how it affects the plant's overall health.
How to Plant Your Germinated Cannabis Seeds
This type of Rapid Rooters comes in a mat of (usually 98) Rapid Rooters. All the individual Rapid Rooters are sectioned off and have a hole for the seed, but they must be cut or pulled away from the complete mat. Unlike the type of Rapid Rooters that comes in a bag, these ones are made into cubes and are flat on the bottom so they can stand alone. This makes them good for germinating in a shallow pool of water where the cubes need to be able to stand up on their own.
Just add you seeds and pour some water into the tray – the Rapid Rooters will do everything else for you.
Never let your young sprouted seeds dry up!
Germination Method 1: Starter Cubes & Seedling Plugs (Recommended)
After closing a Rapid Rooter, it's hard to tell it's been opened. The texture of Rapid Rooters causes the seeds to stay in place and not "fall down" further into the hole once you've got it closed.
This is one of the easiest germination methods and doesn't leave a lot of room for error. Cannabis seeds and clones can be expensive, and sometimes we have genetics we just can't afford to lose. When that's the case, germinate your cannabis with one of the following recommended options to ensure as close to 100% germination rate as possible.