The best time to pollinate your plants is when they are about two or three weeks into the flowering stage. If you wait too long, they'll produce less seeds.
A feminized cannabis seed is what you get when you breed two female plants instead of a male and a female. When you plant feminized seeds, they germinate and grow into females.
You can find colloidal silver at bricks and mortar natural foods stores or through online supplement stores. If you want to make your own, there are plenty of guides online that show you how to do that.
How do you trick them into producing male buds? Induce environmental stress or change their hormones chemically.
Step 5: Fertilize Some Lady Plants
To do this, you can use one of four substances:
Let these ladies grow through the vegetative stage.
When the buds start forming, put colloidal silver in a spray bottle and drench the bud sites once per day. The buds will develop into male-like buds that have the power to pollinate. The process will take three or four weeks. Don't stop spraying them until the pollen-filled buds start opening and the leaf that protects the pollen begins to crack.
How to Make Feminized Cannabis Seeds by Changing the Hormone Balance Chemically
Choice #1 – which is called Rhodelization – is not a favorite method of breeders. It's more complicated than changing hormones.
This is the most common method top breeders use to feminize seeds.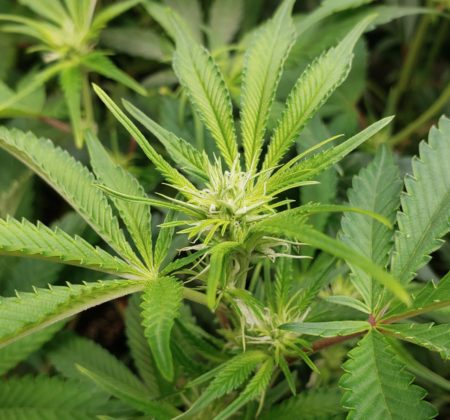 When pollen sacs are cracking and opening up, you're ready to harvest your pollen!
Yes, it's possible. However, it's not really recommended because, for one, the timing doesn't match up. By the time your pollen is ready to use, your original plant will already be several weeks past the optimum pollination point. It's best to pollinate a female plant that has only been flowering about 2-3 weeks, but pollen sacs need more time before pollen is ready to use. It's also possible to run into unwanted side effects from self-pollination/in-breeding.
You can choose to treat a single bud site or all the bud sites on the plant. Any untreated bud sites will develop into female buds as usual. If you want to smoke these buds, it's incredibly important to avoid letting them come into contact with colloidal silver because silver is not safe to smoke. (Don't worry, feminized seeds don't contain any silver). I highly recommend letting the whole plant be your test subject so you don't have to worry about that

The above pic shows you where pollen sacs form on the plant (the same places female buds form).
Yes, it's possible to use just female plants and feminized seeds for further breeding, with one major caveat.