Presented by Florida Man DIPA
Before someone even begins to consider the genetics of their preferred strain, they should first ensure that their apartment is cannabis-friendly. There are five main factors to consider: space, temperature, humidity, the pH of water, and the amount of light.
"Growing cannabis in tight spaces is not my usual recommendation," said Stephen Lipton, the cultivation manager at The Farm Recreational Marijuana Dispensary, an award-winning recreational facility in Boulder, Colorado, specializing in what it calls "craft cannabis." At any given time, Lipton oversees close to 15,000 plants across seven different facilities in Boulder County. "If you have a really tight space and it gets too hot or too humid, you're going to have big trouble."
Light: 2,200k. "For a closet set up, I would recommend a 175-watt HPS light," Lipton said. "Some people try to use fluorescent lighting, but I wouldn't recommend that. You're just not going to get a very good outcome. Nowadays, HPS lights can just go right into your home outlet, and you'd just need a timer [to set the intervals]. Position the light directly overhead. They can be pretty powerful, so you're going to want it at least two feet from the top of the canopy [to prevent the plant from overheating]."
Harvest and cure.
Sticking to that schedule is key, he added. "Say you're at day 30 of the flowering cycle and you come into that closet when it's supposed to be dark and turn a bunch of lights on. You're going to throw the whole cycle off and that's the end of that. It only takes 10 seconds."
Space: 3 x 3 x 5 feet, minimum. "The bigger the space, the better. With all the lights, closets get hot," Lipton said. That said, closets help growers control light pollution when the plant is in its flowering cycle — one of the main reasons home growers favor them over larger spaces, such as living rooms. "If you have a spare bedroom, or a basement even, you can just use that and close the door," Lipton said.
To understand the flowering cycle, it's important to remember that cannabis is a plant. And, like most plants, it follows the seasons. To trigger flowering — which will take 55 to 60 days to complete — growers reduce the time plants spend exposed to the light source from 18 hours to 12. "You're basically telling your plant it's mid-September," Lipton said.
Foster the right growing environment.
Another layer to consider is that cannabis cultivation must happen "out of plain sight." "You can't have any odor. If it's offending people in the neighborhood, then it's an issue."
For some people, cannabis cultivation is a hobby. Others a life-long passion. But it's unique in its vast demographic appeal. "Everyone I know grows," Lipton said. "There are people in their 20s doing it. I know people in their 60s. It's a fun thing for people. You don't have to be afraid anymore." Here are Lipton's tips on growing your first plant.
Controlling temperature in your indoor grow room or cannabis garden can be achieved by manipulating these factors:
Because the amount of light a plant receives is so important, you'll need to make your indoor grow space light-tight. Light leaks during dark periods will confuse your plants and can cause them to produce male flowers or revert to a different stage.
The flowering stage will always take about eight weeks—some strains take seven, some nine, some even more, it depends on the strain.
Soil and other media for growing weed indoors
While shopping for soil, you might be overwhelmed by the options available at your local garden store. The soil type is the basic structure of your soil. From there, look at nutrients, microorganisms, and other amendments that improve the soil. Your choices will be flooded with words like:
These come in different shapes and sizes and are a great way to get rid of odor in an indoor weed grow. Also known as "carbon scrubbers" for their ability to get contaminants out of the air, these employ activated and highly ionized carbon to attract particulates responsible for carrying odor, such as dust, hair, mold spores, and volatile organic compounds, and traps them in a filter.
Indoor space
You'll need to ensure that temperatures remain within a comfortable range for your plants, between 70-85°F when lights are on and between 58-70°F when off. Some varieties of cannabis—generally indicas—prefer the colder side of the range, while others—typically sativas—are more tolerant of high temperatures.
Examine the tops and undersides of leaves for pests or discoloration—spider mites live on the underside of leaves—as well as stalks and branches. Also, check the soil for pests.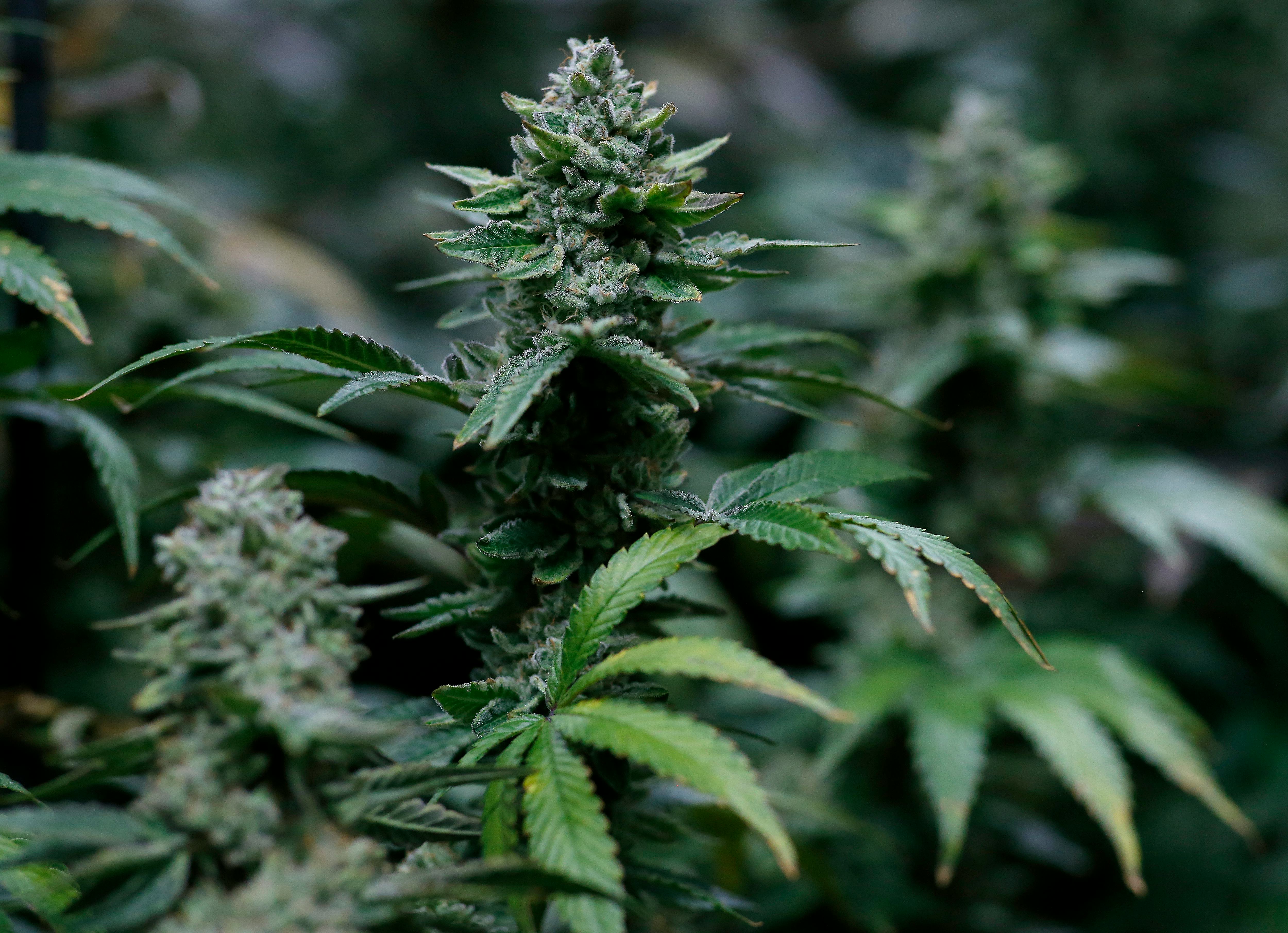 If you buy seeds from a seed bank, look for those labeled "feminized" to ensure they give rise to female plants, Johnson says. But if you're a total newbie, he suggests buying clones, which are cuttings from a "mother" female plant, available at some dispensaries, as well as at nurseries. Not only are they easier to obtain, "they're easier to grow. You get a clone, and you transplant it to some soil."
Since clones come from plants that have been grown indoors, let yours chill in a shaded area for a week before exposing them to full sun, Johnson says. "The clone hasn't tasted sun like that, and the transplant itself will be stressful."
Planting
Cannabis plants can be either male or female. Female plants yield the plump flowers, a.k.a., "buds," that we know and love, brimming with psychoactive compounds like tetrahydrocannabinol (THC, which gets you high), Modern Farmer explains. Male plants yield much smaller flowers, which people typically don't consume. In other words, if you want to actually indulge in your crop, you'll want female plants.
Your cannabis will be ready to harvest at around October. You'll know they're ready when the buds "start to get really, really swollen and packed pretty tight," Johnson says. But it can be hard to tell if you're a beginner. Many growers say that if you think your plant is ready to harvest, wait two weeks, since many newbies tend to harvest too early. Or, you could share a photo of your crop on a forum and ask more experienced growers to weigh in.
Upkeep
That said, when your plants are fully flowering, you might find yourself watering them daily, based on these indicators. When you do water them, keep going until you see water running off the soil, to ensure the water reaches all of the soil in the pot.