The most worrisome chemicals would be heterocyclic aromatic amines and polycyclic hydrocarbons. These are not very soluble in water, meaning that leaching of significant amounts is not likely. Various metal salts, also found in tires, tend to be more soluble and more likely to contaminate soil. How much leaches from tires? Without analyzing the soil, we just don't know. How much eventually makes it into the vegetables? Without testing we don't know. What we do now is that plants are quite adept at absorbing substances from the soil in which they grow. In fact, a process known as "phyto-remediation" can be used to decontaminate soil as was shown when mustard greens removed 45% of the excess lead from a playground in Boston and pumpkin vines cleaned up an old Magic Marker factory site in Trenton, New Jersey.
When it comes to chemical composition, tires are extremely complex. Different kinds of rubber, carbon black, vulcanizing agents, antioxidants, antiozonants, polymerization accelerators, plasticizers, oils and solvents are all components of tires. Roughly 5% of the weight of a tire is made up of "processing chemicals." When tires are burned, these chemicals can be released, and even more nasties form as a result of their combustion. However, a tire that lies dormant in the back yard is not being incinerated. Still, it is a good bet that with time some components will leach out into the soil and conceivably make their way to a plant's roots where they can be can be absorbed. To what extent does this happen? There seem to be no studies that have analyzed vegetables grown in tire gardens for potential toxins emanating from the tires. So, all we can do is make an educated guess.
Where does all this leave us? Without any hard conclusions. But given that the growing time for vegetables is relatively short, and leaching from tires is slow, and that these vegetables are not likely to become a major contributor to the overall diet, any risk would appear to be low. That risk can be further reduced by lining the tires with plastic, but that raises the question of chemicals leaching out of the plastic, although these would be less nefarious that those found in tires. Of course, if you use tires to grow flowers, there is no toxicity issue.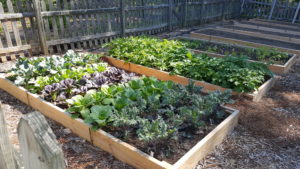 image by Lucy Bradley All Rights Reserved
There is no need to use tires in the garden There are other economical, environmentally sustainable, options that have less potential for health risks.
While this does keep tires out of landfills, and it can be an inexpensive way to create a raised bed, there are some potential risks.
Written By
Alternatives for Raised Bed Construction
El inglés es el idioma de control de esta página. En la medida en que haya algún conflicto entre la traducción al inglés y la traducción, el inglés prevalece.
Clicking on the translation link activates a free translation service to convert the page to Spanish. As with any Internet translation, the conversion is not context-sensitive and may not translate the text to its original meaning. NC State Extension does not guarantee the accuracy of the translated text. Please note that some applications and/or services may not function as expected when translated.
English is the controlling language of this page. To the extent there is any conflict between the English text and the translation, English controls.