Growing cannabis outdoors offers many benefits. Firstly, it can be very affordable. You do not need to provide a structure like a greenhouse or high tunnel. In addition, artificial light is not necessary if you place it in the right spot in your yard, because your plants can benefit from the sun's abundant and free energy.
Soil Types
Four basic soil types exist: sand, clay, silt, and loam. Each has its pros and cons for gardening.
Loam for Growing Marijuana & Other Crops
The optimal ratio for loam is 20% clay, 40% silt and 40% sand. Most folks think a pH of 6.0 is best for cannabis, with a range of 5.8 to 6.3 being acceptable. With a pH close to neutral, loam is typically in that zone or close to it.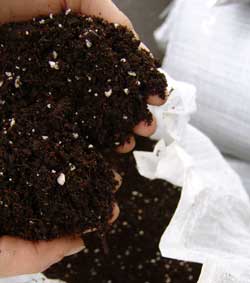 The following video shows the soil texture you want (this is Coco Loco, an excellent soil for growing cannabis)
Important Cannabis Soil Considerations
Bad Cannabis Soil
Don't use dirt from outside! It almost never works, especially if it looks like this!
Fox Farm Ocean Forest Soil

(picture by Wattze)