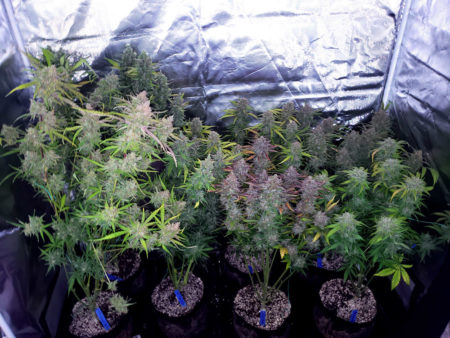 The answer is that each individual strain and plant is different. But here's what to keep in mind:
At what age do cannabis plants start to smell?
But when growing weed, do the plants start smelling? And how much?
The cannabis buds we know and love have a noticeable smell. They stink. I love the smell, some people hate it, and every strain is different.
Short Answer: The smell starts at 3-6 weeks old (depending on strain) even in the vegetative stage. But the smell gets much worse after plants start flowering/making buds.
One of the best ways to guarantee total odor filtration and stop the aroma of weed getting out of your room or grow tent, is to use various products at the same time. Let's have a look at some examples:
One of the best anti-odor brands out there is called ONA; they produce many different products including air fresheners as well as products that can be sprayed to get rid of the smell of cannabis in a flash. They also come in blocks, which are more compact than the gel format, which slowly release a combination of pleasant, nice aromas that are perfectly safe.
Carbon filters are classic cannabis filtering devices. Not all carbon filters work the same when it comes to filter power and lifespan; you may want to pick a high quality device – you may need to shell out a bit more money. You'll also need to pick one that's right for your extractor or else it won't work correctly.
A decent ozone generator is the Uvonair generator, which uses a diffusor crown to produce ozone; you'll need to replace it every now and then. Like every other ozone generator on the market, you'll need to place it right before your extractor fan outlet. It should have at least 5m of ducting in front for it to work properly. In order to avoid issues with ozone leaks, we recommend using a non-return valve in between the extraction fan and the ozone generator. Place your intake fan on the opposite side to the extractor, down low.
Ozone Generators
On the one hand you can use air fresheners or odor neutralizers, which can be found in gel or liquid format and are generally used as an extra measure – they usually aren't potent enough to do the entire job themselves when plants are in bloom. On the other hand you can also use activated carbon filters, which usually come in fabric or metal casings and are used by attaching them to your extraction fan system; they can filter up to 90% of all odors. Last, but not least, you can also use an ozone generator, which is also installed to your extraction ducting, however you must not let the ozone come into contact with your plants.
The Neutralizer is one of the best odor neutralizers that we stock. It's made from various different essential oils from aromatic plants and it modifies cannabis odor particles perfectly, capable of covering large areas effectively. It does not affect your plants' aroma and it's perfectly fine to breathe in.
ONA gel products can be used inside cannabis grow rooms or tents without damaging the plants at all. These products are generally used to back-up carbon filters by placing them inside your ducting. They're also used to camouflage the aroma when drying cannabis or for areas near your grow room like the hall or your garage. You can also acquire sprayers and the like so that you get the absolute most out of it.
Anti-odor gels
Odor filter + Neutralizer + Gel; You can install an activated carbon filter, odor-killing gel inside your ducting about a meter away from the extraction fan outlet and a Neutralizer at the entrance to your house.
One of the best activated carbon filters is the Anti-odor Filter Mountain Air, which is so efficient that it has won prizes for it. These high quality filters made in Canada can filter almost 100% or any aromas thanks to its high quality activated carbon and its innovative design and shape. They usually last for about two years, depending on how intensely you plan on growing cannabis. These filters are perfectly safe and eco-friendly.