Crockett's Confidential regular by Crockett Family Farms Cannabis Seeds
This beautiful indica plant has the typical LA structure. It produces large dense buds covered in resin and produces very well, especially outdoors.
LA Confidential and Family Secret were crossed for regular Crockett's Confidential cannabis seeds from Crockett Family Farms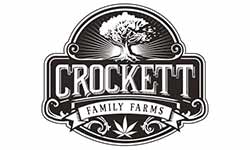 This elite strain was among the first to be released by Crockett Family Farms, and what a strain it is: Crockett's test grows conducted in their legal environment showed strong, vigorous plants that yield large harvest of extremely resinous flowers. Flavours are fruity; grape and apricot backed with dank, earthy notes.
(next working day – order by 2.30pm)
Crockett's Confidential is an Indica dominant marijuana strain derived from the multi award-winning DNA Genetics LA Confidential, pollinated with Crockett's flagship variety; Family Secret.