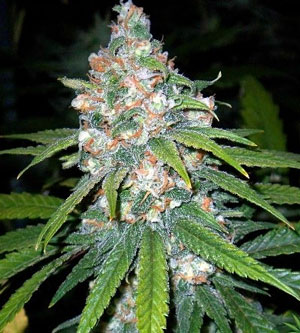 Auto-flowering plants have some unique qualities:
When it comes to trying to get to harvest as quickly as possible, your best choice is often to grow an auto-flowering strain of cannabis. With an auto-flowering strain, you'll have the option to harvest your plant 2-3 months from seed, and it's not unusual to harvest an ounce or two off each plant. Under powerful grow lights and with some room to grow, auto-flowering plants can produce 5-6 ounces per plant or even more!
On the flip side, a photoperiod plant gives you as much time as you need to dial in your grow and make mistakes because it won't start making buds until you "tell" it to. That gives you time to conduct experiments and/or really see what a plant can do!
Northern Lights is one of the most popular cannabis strains out there.
Perfect for cultivating outside, you can expect an impressive yield with little effort. Blue Dream is a true dream for growers in a subtropical or Mediterranean climate. You can expect more than 20 ounces per plant, and your plant could grow higher than 13 feet tall. Also, Blue Dream may be one of the easiest strains to grow outdoors, especially for novice growers.
Kandy Kush OG has a moderate to high yield with a flowering time between 65 to 75 days. The plant is mold-resistant and grows well in cooler climates. It's a splendid blend of OG Kush and Trainwreck. When growing indoors, it's best to use the Screen of Green (SCROG) method.
Kandy Kush OG
You need to grow Durban Poison outdoors if you want your plant to reach its full potential. The warm sunlight is ideal for your plant, and the being outside gives the plant room to spread its branches. You can expect your plant to tower to more than seven feet tall.
Swazi Gold is know for its high outdoor yields.
Durban Poison
Durban Poison is a popular strain for concentrates due to its large resin glands.
Pure indica, Afghan Kush loves a climate that mimics a European summer. The plant only takes around seven to eight weeks to flower, and you can expect a yield of about 16 ounces per 10 square feet when growing indoors. Also, Afghan Kush is highly resistant to molds, parasites, and pests. You can expect this to be easy to grow in soil or a hydroponic system.